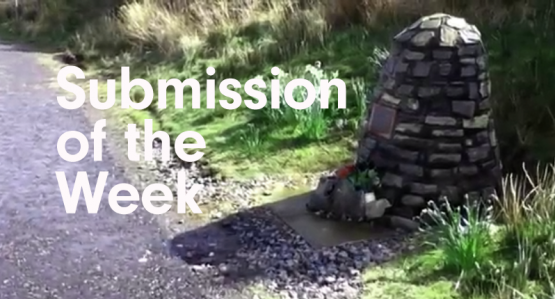 Last week we offered you the chance to win £100 by entering Submission of the Week.
After an extended opening submission period, the time has come to select our first winner!
Congratulations to Anne Widdop, whose video Stop and Think is the first submission to win our £100 prize!
We'd like to say a huge thank you to everyone who made a direct submission, especially those who answered one of the three Northern Lights questions:
1. What can you see?
2. What do you wish you had seen?
3. What would you like to see in the future?
Anne Widdop's video answered question number 1, showing us her Scotland by capturing a small memorial to Ronald Raymond Brown near Arisaig village.
Northern Lights Creative Director Nick Higgins said,
"Northern Lights as project aspires to rediscover Scotland through the eyes of those people that pick up their camera and share their point of view with us.This submission does exactly that. It is successful because it directs our gaze towards an event that would otherwise be overlooked by most people, and more than that, it makes a poignant case for the ambiguous nature of what we think of as progress. Many people know that round the corner from this monument is one of the most beautiful views in Scotland, but this filmmaker refuses to offer up the obvious and instead makes us stop and think. Excellent work, Anne! We hope to see more!"
If you want a chance to win £100, upload your direct submission by midnight on Sunday 6th May and the winner will be announced one week from today. Please read the rest of the rules here before you upload.

Thank you and, once again, good luck!