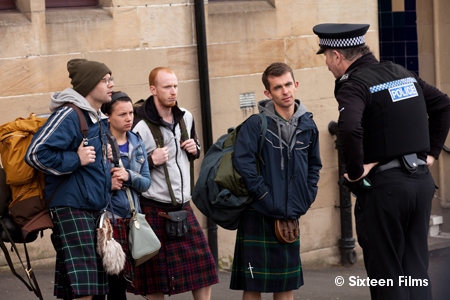 The Northern Lights project is the first mass-participation feature-film documentary in Scotland, and we want images and stories that have never been seen or heard before.
As Hannah McGill, one of Scotland's best film critics and former Edinburgh International Film Festival creative director, joins us as guest editor this week, we are looking out for your Best Creative submissions.
Only this weekend Ken Loach won the Jury Prize at Cannes for Glasgow and Highlands-set The Angels' Share. The film contains a shot of Shettleston Road in Glasgow's East End, and it is a timely reminder of how even what might seem like a mundane reality can be transformed by the power of cinema.
Whilst fiction filmmakers like Loach work with big budgets and big crews, the challenge for documentary filmmakers is how to give our everyday realities the cinematic treatment with limited resources?
All this week we'll be looking for submissions that create great cinematic shots whether achieved using day-to-day cameras or professional high definition equipment. Great cinema is about powerful depictions of humanity and incredible cinematography and Northern Lights can aspire to this too!
Show us what you can do and get your submission in front of the discerning eye of Hannah McGill and you could be in the running for the Best Creative Award of £750.
If you're looking for a little inspiration, why not set up your tripod, wait for the best light and think about how you might capture the opening shot of the Northern Lights film?
Don't forget to check out Nick's Director's Requests, and check back on Tuesday for his latest wishlist.