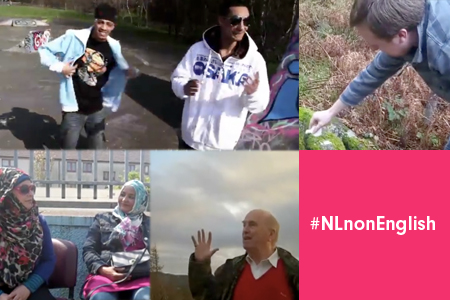 It's Non-English week (#NLnonEnglish) here at Northern Lights and we invited Gaelic speaking film producer Chris Young (The Inbetweeners) to be our guest editor.
Chris will be judging the Best Non-English Award of £750 after submissions close on 21 June.
Chris jumped right in to take a look at all our non-English submissions so far and pick a handful of his favourites.
Grimey Life
This is such a welcome addition to Scottish contemporary culture, nice work! Is that a Slavic rap in there, or am I imagining things? This encapsulates the Northern Lights ideal direct response – it's short and very sweet, and possibly my favourite of the films I've seen so far.
Clach a' Bhainne
I love hearing Gaelic from Argyll – it's always a good thing in my books! When we made Seachd ,the Gaelic feature film, we had a milk stone in the script which somehow got cut… how did you know?! Feeding the fairies in the wood another idea from the gaelic film which was sadly left on cutting room floor, so it's great to see it made it into this one. Speaking of which, someone should make a gaelic odyssey round Scotland highlighting places like these: it is all too often that these roadside spots are ignored, so it is great to bring them centre stage.
East Meets East
I enjoyed the slow relaxed pace of this exchange – it's good to bring Scotland closer to Afghanistan and the Sudan in this warm and friendly context. I liked eavesdropping on these delightful women and their Easterhouse host very much. My only complaint was the poor sound quality which meant I missed too much of the chat, but as always, hearing new languages is what this week is all about. What were the paintings at the end? You've left me on a cliffhanger of intrigue!
Gual's Gaisgich
I very much enjoyed the Argyll odyssey in Gaelic, especially the hill and place names. I'll be on the road to Jura tomorrow and will see the landscape anew after seeing this film, so thank you for this new perspective. Bring on part two, we can't wait to see it!
Thanks, Chris!
If you have a Non-English submission and want to win £750, make sure you submit yours before the deadline on 21 June.
Only 2 weeks left to deadline folks. Want to we our Best Workshop submission (£1000) or win the coveted People's Choice Award (£2500)? Click through to find out how.
You can also take a look at our Awards page to see all of the £10k worth of awards we're giving away as part of Northern Lights.