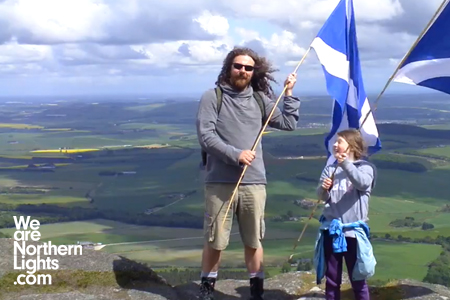 … before time runs out!
There is now only 3 days to go until the close of submissions for the Northern Lights project.
If you don't know already, Northern Lights is the first ever mass-participation documentary film to be made in the history of Scotland.
Not only is the unique, collaborative nature of the project a historic first, the footage that we will gather together will be held as an extraordinary account of the lives, thoughts and hopes of the people of Scotland in 2012.
2012 is no ordinary year; in the three months that the project has been running we have witnessed the launch of the 'Yes' campaign for Scottish Independence, the Queen's Diamond Jubilee, and the journey of the Olympic torch through Scotland.
So the question is: did you video these events?
Did they, or do they, have meaning for you? If not, what does?
Maybe what is important is something more personal to you, your family or your friends? Maybe you want to tell your own story of what's important for Scotland in 2012. Whatever it is you want to share, now is the time to take out your camera to be part of history.
And if that's not enough incentive… wouldn't you like the chance to win a chunk of our £10,000 Award fund?
It's time to get video-recording, time to get uploading, time to be part of history!
Your deadline is midnight on Sunday 24 JUNE 2012. Get involved!