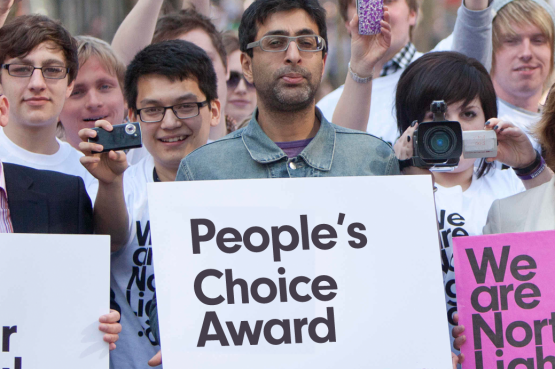 Here's another good reason to send in your video submissions: with our 'People's Choice Award' we're giving £2500 to the video submission that gets the most votes on the Northern Lights website. Here's how it works:
How to Vote
When you visit the submissions page you can vote by clicking the pink 'Vote Now' button which is below the player on the individual video page. When you click it you will be told that you have voted for that film. You can also see the number of votes a video already has. At the moment the video with the highest vote on Northern Lights is 'Good Old Skelmorlie' which has 66 votes – but there is still time to get yours beyond that.
How to win
So how do you make sure that your video gets the most votes? Well, the sooner you post your submission the most chance it has of getting seen, so send your submissions in early. Once your video is live on the site, it's time to start telling the world. Ask your friends and family to vote for you, and share your video on Facebook, Twitter, and YouTube; the more people who see your video the more votes you will get.
The winner will be announced in July after the submissions deadline has passed. The award has to go to someone and that someone could be you. But don't worry if you don't think your video will win out as the 'people's choice'. We will also be announcing smaller awards in individual categories judged by some special guests. You can find out more and keep up to date with our awards here.
Ready to try for the big award? Submit your video here now.