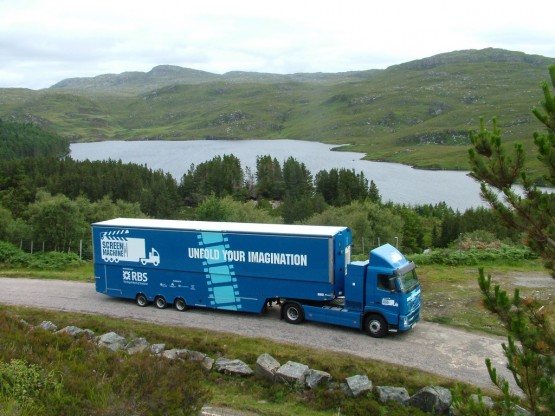 Screen Machine van heads to Highlands for 6 week tour of 'the people's movie' We Are Northern Lights
What an exciting month it has been!
Our national Cineworld release could not have gone better. We punched well above our weight at the box office, outperforming the likes of Disney's 'Chimpanzee' and Pedro Almodovar's 'I'm So Excited.' So much so that in Glasgow we were on the big screen for three full weeks – an unprecedented achievement for any micro-budget film, let alone a homegrown crowdsourced documentary!
Even more heartening was the phenomenal response we received from the public. Audiences members were impassioned and described the film as 'a cultural Rosetta Stone for Scotland', 'the most valuable citizenship resource for schools ever' and 'a life-affirming, uplifting portrait of Scotland'. All this was topped off by a standing ovation at one Glasgow screening.
So what's next?
Well first off here's a few words of thanks
We're hitting the road once again to give communities in the West Coast and Highlands a chance to both see the film and respond to it with some footage of their own!
We're delighted to be the opening film of the 15 year anniversary celebrations of the Screen Machine – Scotland's purpose built mobile cinema truck. At each screening we'll be loaning out Flip Video cameras so that audiences can make a contribution to the next phase of our national documenatry project. Full info on how you too can get involved in Phase 2 of Northern Lights will follow very soon.
The Screen Machine will screen our film as part of a 6 week tour, starting with Lochcarron on 7th June and wrapping up on the beautiful western Isle of Eigg (a key location from the feature film) on 18th July.
Screening Dates
Lochcarron:             7 June 8.30pm
Bettyhill:              22 June 8.30pm
Lochinver:              27 June 8.30pm
Lairg:                  29 June 8.30pm
Eigg:                   18 July, 5.30pm
Tickets cost £7 and can be bought via Screen Machine.
Keep an eye on our screenings page for full details and any updates.
Hope to see you out there!
Nick
& all the team