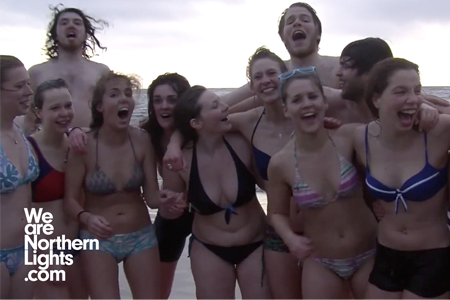 After considerable deliberation the judges have returned with their decisions.
So without further ado, here are our winners and runners-up!
Peoples Choice Award Winner (£2500)
Bubble TV – The Gaudie & May Dip 2012
Congratulations to the winners of the People's Choice Award, Bubble TV who achieved a staggering 2096 votes! Click through to read how they did and how they will be spending their winnings!
Best Ambassador Award Winners
The Best Ambassador award left us with another tough decision – so we've selected 3 of our Best Ambassadors and we are splitting the award 3 ways. So congratulations to our winners:
Kim Hickey (£250) - Kim gave an outstanding contribution to workshops! Kim volunteered at all of the Diversity Films workshops, she championed the project and workshops via Twitter and Facebook, and even ran a workshop at the Glasgow Women's Library. Thank you Kim for going above and beyond!
Darren Dowling (£250) - Darren championed the project in several ways including the Northern Lights Information Video that he then posted on different networks. He has also been an active community, giving feedback and encouragement to other submitters, and generally keeping us on our toes! Thank you, Darren!
Norman Bissell (£250) - Last but certainly not least, Norman has been a huge contributor. Norman arranged a workshop in Luing and got the people of his community involved in Northern Lights, in person and online. Congratulations, Norman!
Best Workshop Award Winners
After much deliberation, it was much too difficult to pick just one workshop! To make it fair to all workshop submissions, we have decided to split the award 50/50 between one Group Workshop and one Pop-up Workshop.
The winners are…
Group workshop: Graham Bell - I Can't Remember My Name
This workshop submission blew us away with its message of courage, hope, and love. After his stroke, Graham Bell forgot how to do the simplest things – but he has put together this amazing video about his appreciation for life. Congratulations, Graham!
Pop-Up Workshop: Calum Maclean - At The Falls
Calum Maclean showed us what he could see: the changing landscape. As the water around the falls swelled, he took a wee swim. Calum's Scotland is wild and free, and we thank him for sharing it with us in all its beauty, hope, and fun. Well done, Calum!
Best Creative Award Winner
Best Creative Runners Up
Emily Ward – Culra Bothy Project
Kate Burton – Wild Lines
Click through to the Best Creative page for judge Hannah McGill's comments.
Best Funny Award Winner
Ryan Macleod and Dee Custance - A Guide To Edinburgh And Scotland And History And Edinburgh
Best Funny Runners-Up
Scott Ironside - Teuchter Weather
Tim Riches - Dirty Dozen Plus One
Click through to the Best Funny page to read judge Sanjeev Kohli's comments.
Best Memory Award Winner
Best Memory Runners-Up
Chris Leslie – St Peter's Seminary
Graham Bell – I Can't Remember My Name
Click through to the Best Memory Award page for judge Alan Bisset's comments.
Best Non-English Award
Àdhamh Ó Broin - Clach a' Bhainne
Best Non-English Runners-Up
Eva Kourova - Grimey Life
Martina Camatta – Open Eyes (Occhi aperti)
Click through to the Best Non-English page to read judge Chris Young's comments.
Best Issue-Based Award
Best Issue-based Runners-Up
Leo Saidenough & Noreen Real –  Noreen Trouble Real
Oliver Peters –  Northern Lights Scottish Pride & Independence?
Click through to the Best Issue-based page to read judge Lesley Riddoch's comments.

Congratulations to all our award winners and thank-you also to our judges!

To everyone else who has been involved in Northern Lights – thank you all for your amazing contributions!
… the edit continues.