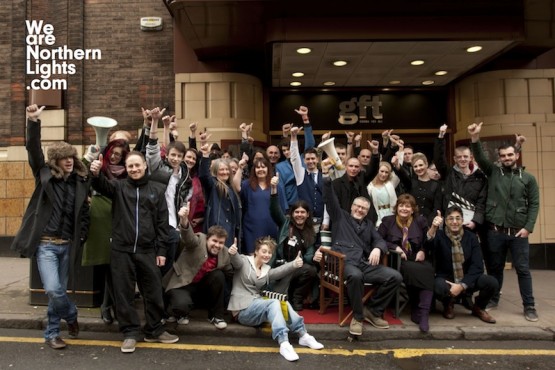 Saturday was the completely sold out World Premiere of We Are Northern Lights at the Glasgow Film Festival, and what a day it was!
We were honoured to have the film introduced by Scotland's Minister for Culture, Fiona Hyslop and around 44 of the co-directors were also in attendance. That's them in the photo with Nick and the minister. It was the first time that they or anyone had seen their edited footage and the first time any of the audience had viewed the feature film as a whole.
Here are just a few of their reactions…
A few of the project's pals were there as well, and funny man Sanjeev Kholi had a few words to add…
It has been an epic journey to reach this moment and now we just want to share the film with everyone!
Our next regional premiere is at the Edinburgh Filmhouse on Sunday 3rd (5:45pm – plus Q&A), Wednesday 6th (3:30pm & 8:20pm) & Thursday 7th March (3:30pm & 8:50pm)
and then we head to:
Aberdeen – Sunday 10th March (6:00pm – plus Q&A), Belmont Picture House
Stirling – Thursday 14th (7:30pm – plus Q&A) & 19th March (7.30pm) MacRobert Centre
Inverness – Sunday 17th (6.00pm – plus Q&A) & 21st March (8.30pm), Eden Court
Dundee – Sunday 24th March (6:00pm – plus Q&A), Dundee Contemporary Arts
Dumfries – Monday 25th March (6:30pm – plus Q&A), Robert Burns Centre
We look forward to your own responses and we hope our regional premieres will be every bit as joyous as the Glasgow send off!
Yours in excited anticipation,
Nick Higgins & all the team.