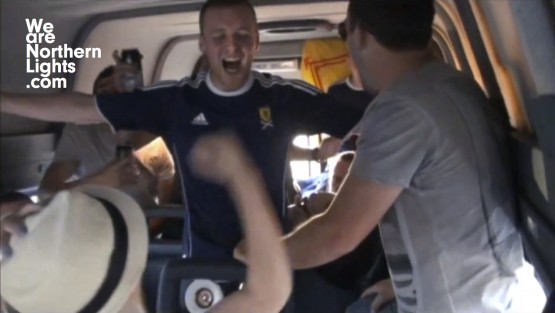 As you perhaps already know, we are absolutely chuffed to be able to say that the 'We Are Northern Lights' feature documentary is finished! We are already busy organising screenings across the country and we will be announcing exciting news of our World Premiere early in the New Year!
Before we share the film with the world, and after some 5 months of editing, this seems like a good moment to say a few words about the often unsung heroes of post-production.
First off, the editor, Colin Monie. Perhaps better known for his work on fiction feature films such as Midnight's Children, Magdalen Sisters and Hallam Foe, Colin has also cut his fair share of feature documentaries including the innovative Future My Love. Even with all this experience, Northern Lights presented Colin with a completely new kind of challenge.
With over 14000 clips to organise Colin was assisted by Dave Arthur & Florian Nonnenmacher, both up and coming feature film editors in their own right. Currently Dave is cutting Stuart Murdoch's debut feature, God Help The Girl and Florian came to us fresh from cutting the feature, The Happy Lands.
As you can see, there's been an incredible amount of talent involved in making the film and not least when it comes to sound. We were lucky enough to work with the best in Scotland and New Zealand. Yes, your read correctly our sound mixer was a hugely enthusiastic and experienced Kiwi called Chris Sinclair. He came back especially to work in the Dolby suite at Savalas with the brilliant sound designer Douglas MacDougal.
The final polish of the film was delivered by the digital wizards at Serious post-productions. Throughout the whole edit these guys, especially Scotland's most eligible bachelor, Simon Cull, transformed the many diverse formats we received into something our editing system could cope with. The final touches were delivered by Brendan Reilly who colour graded your footage for the big screen!
So a massive thanks to all these guys and I hope it feels good to know that your submissions have received the best possible treatment and consideration throughout the making of We Are Northern Lights.
But that's enough about the folks behind the scenes, the real heroes of this production are YOU, the people of Scotland! And very very soon we will be letting the 121 co-directors know who they are!
So, until the New Year, have a braw Christmas,
& big festive cheers
from
Nick & all the team!