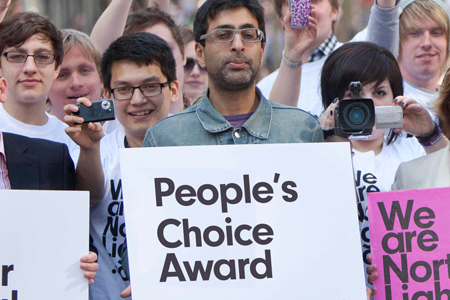 Award: People's Choice Award – £2500

The winner of the People's Choice Award is Bubble TV – a student run tv station at the University of St Andrews.
Founded in September 2010, they have had over 275,000 views on YouTube, featuring interviews with the SRU, Sir David Attenborough and Noam Chomsky. On a more regular basis, they run features on University societies and events – showing the best of what student life has to offer.
"Until this point, we have been reliant on favours from others and borrowing cameras. Thanks to all those who voted in the Peoples Choice Awards, we are now able to purchase our own equipment, which will allow us to greatly increase the quality of our coverage and diversify to new genres.
Many thanks once again, and if you want to see how we're getting on, follow us on facebook.com/bubbletvsta and @bubbletvsta" – Alistair Ferrans
To view latest submissions, go to the Submissions page.
Click here to view all submissions to the Northern Lights project.